Field Ready Tablet & Holster
Make the most of the mobile revolution
Integrating a large-scale tablet deployment can save or cost your business millions. As a consultative partner on over 100 global roll-outs, tap into our knowledge to help you deploy safely, comfortably and efficiently for improved business performance.


Avoid tablet tunnel vision
Digital transformation is a top priority for 60% of companies in 2017*, but harnessing the strategic benefit of a mobile and data-enabled workforce is difficult to achieve if tablet protection and employee usability aren't considered.
*IDC:November 2016
Setting the standard for enhanced tablet deployment
Design your deployment around your digital transformation needs. We offer an end to end solution to meet the needs of your employees and your bottom line.
Key Benefits
Reduces total cost of ownership
Increase longevity of device through advanced protection
Meet core user needs through ergonomics
Improve user efficiency for increased business returns
Limited lifetime warranty included
An end-to-end solution from an industry leader
Tested and approved in pilots worldwide, the Field-Ready Case and Holster are a unique solution. We have developed them in collaboration with feedback from employees at the frontline of global organisations, but we also understand that every company is different. We'll help you deliver a tablet deployment that is strategically integral to your business performance.

Discover
Defining your digital
transformation needs

Diagnose
Pin-pointing the bespoke
solution for your requirements

Deliver
Assisting you to deploy the
solution regionally or globally
The Field-Ready Case & Holster

Screen Protection
Plastic PET or
Tempered Glass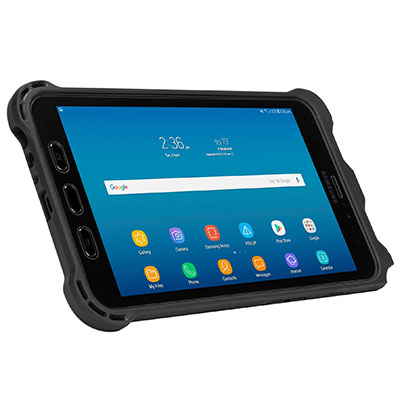 Add an extra layer of protection

What will the Field-Ready solution mean to you?
Retail
Industrial
On-the-road
Emergency Services
Education
Healthcare
Closer customer interactions on retail premises
Improve the customer journey by reducing response times and making staff more accessible to customers. Remove the need for waiting at tills and terminals.
Better customer experience
Improving response times
Keep employees fast and
safe in industrial settings
Enable easy access to business applications to improve productivity while ensuring safe storage of a tablet in a hands-on environment.
Enhancing safety
Increasing productivity
Freedom of movement
for delivery teams
Improve efficiency and allow employees to drive comfortably without the disruption of a shoulder strap.
Improving efficiency
Driving and wearing a tablet comfortably
Protection from drops when on the move
Greater agility for
emergency teams
Robust protection with a discreet look and feel. The Field-Ready solution allows emergency personnel to access and record data on-the-go.
Increasing response times
Robust protection
Discreet wear
For budget-conscious educational establishments
Protect student or teacher devices in busy classroom environments.
Reducing cost of ownership
Increasing longevity of IT investment
Attentive care for busy healthcare teams
Enables busy healthcare teams to wear a tablet comfortably over long shifts for hands-on patient care and fast access to vital data on-the-go.
Aiding patient attention and care
Improving efficiency
Improving responsiveness